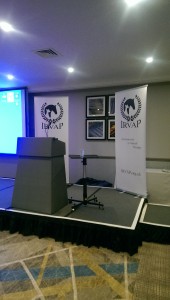 22nd March 2015
I have spent a very worth while day today at the IRVAP conference. Lots of very good speakers covering a wide range of topics, canine and equine. My stand out speaker for the day was Russel Guire from Centaur Biomechanics talking on the subject of Equine Biomechanics and touching on the fantastic research that he and his associates carried out on the influence of girths on the lead up to London 2012. A very dynamic and energetic speaker who was obviously very passionate about his work.
It was also good to catch up with other therapists, and especially ones that I completed the course with finding out where they are with their therapy journey.
Feeling inspired now and lots of exciting CPD dates to book.